Community Health Navigator Program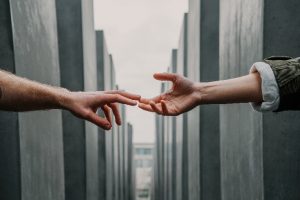 Page is currently under revision.
The mission of the Community Health Navigator position is to assist the Port Orchard community with connection to treatment, resources, and services during and after contact with first responders. The goal is to increase overall health and well-being of the community by providing individuals with resources that do not require an emergency service response.
The Community Health Navigator engages with individuals and their support networks to connect them to resources and social services. They facilitate and coordinate services for individuals across all involved systems of care including Designated Crisis Responders, mental health and chemical dependency counselors, housing providers, etc.
Our current Community Health Navigator, Melissa Stern, was hired in 2021 to provide collaborative service with both Port Orchard Police Department and South Kitsap Fire Rescue. Ms. Stern has over fourteen years in the field of Social Services with experience in providing connections to treatment, services, and resources, as well as providing crisis intervention, case management, independent living and social skill coaching, vocational services, and advocacy. She has additional experience working in the field with law enforcement as well as settings such as inpatient, outpatient, and community-based residencies. Ms. Stern possesses advanced training in Crisis Prevention and Techniques and is a certified instructor through the Crisis Prevention Institute.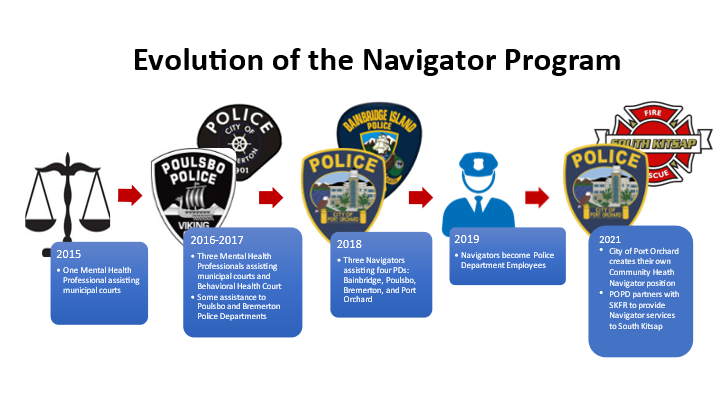 2015
One Mental Health Professional assisting municipal courts.
2016-2017
Three Mental Health Professionals assisting municipal courts and Behavioral Health Court.
Some assistance to Poulsbo and Bremerton Police Departments.
2018
Three Navigators assisting four police departments: Bainbridge, Poulsbo, Bremerton, and Port Orchard.
2019
Navigators become Police Department employees.
2021
Port Orchard creates their own Community Health Navigator position.
POPD partners with SKFR to provide Navigator services to South Kitsap.
Links and Resources
Housing: https://www.kcr.org/housing/
Food: https://skhelpline.org/
Medical, Dental, Health Insurance Assistance: https://www.pchsweb.org/
Domestic Violence:  http://ywcakitsap.org/
24/7 Crisis Line: 1-888-910-0416
Youth Crisis Line (13-25): text "HELP" to 360-377-5560
LIFELINE Suicide Hotline: 1-800-SUICIDE OR 1-800-273-TALK (8255)
LIFELINE Chat: https://suicidepreventionlifeline.org/chat/
​LIFELINE Text: You can text "HEAL" to the Crisis Text Line at 741741