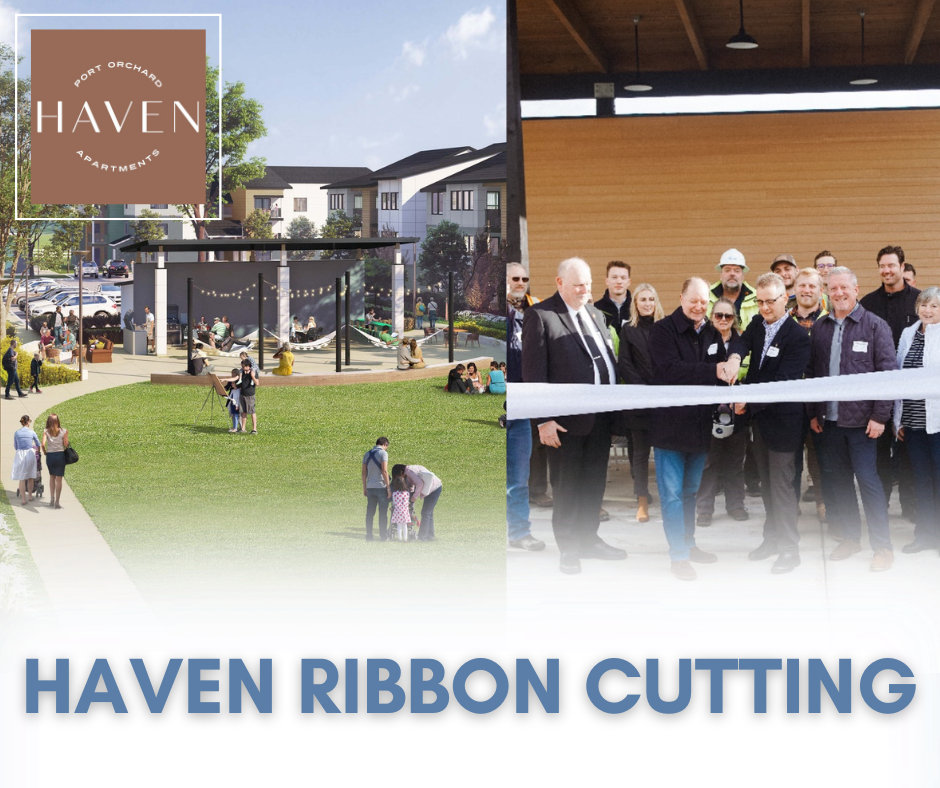 Port Orchard, WA – On January 23, 2023, the Mayor and members of the City Council and Planning Commission attended a ribbon cutting for the Haven Apartments project at 4999 Sidney Road SW.  This new project represents a partnership between the City and Tarragon LLC.  To develop the site, the City and Tarragon reached agreements whereby Tarragon constructed a $2,400,000 public sewer lift station, over $400,000 in public road improvements to Sidney Road SW, and agreed to dedicate land along Ruby Creek for future use as a City Park.
Located in the Ruby Creek Neighborhood in Port Orchard, Haven is a 216-unit garden-style apartment community comprised of one-, two- and three-bedroom units. The park-like setting links green spaces with walking trails, fields, play areas, benches, and covered picnic areas. Haven's central lawn features 8,000 square feet of open space for all residents to enjoy.
City leaders are excited to see continued development in the planned Ruby Creek Neighborhood in accordance with the City's adopted plans.  This area is envisioned as a thriving walkable neighborhood with convenient access to goods, services, schools, and jobs.  Several other projects are planned in the area including a Kitsap Transit park and ride facility, mixed-use building pads, environmental enhancement projects, a regional park, and additional housing.