City Closes on Kitsap Bank Property Acquisition for New Community Center
Kitsap Bank to Begin Design, Construction of New Regional Headquarters Next Door
FOR IMMEDIATE RELEASE
PORT ORCHARD, WA – December 9, 2021 – Port Orchard city officials announced today that the real estate agreement to acquire the Kitsap Bank waterfront property at 619 Bay Street has closed. The acquisition is the next step in the city's plan to redevelop downtown's waterfront and build a South Kitsap Community Events Center that will incorporate a new local facility for the Kitsap Regional Library.
The property was acquired for $2.5 million. Funding for the land was provided through a $1 million contribution from the Kitsap Public Facilities District, $1.2 million from the state legislature and $300,000 in local funding.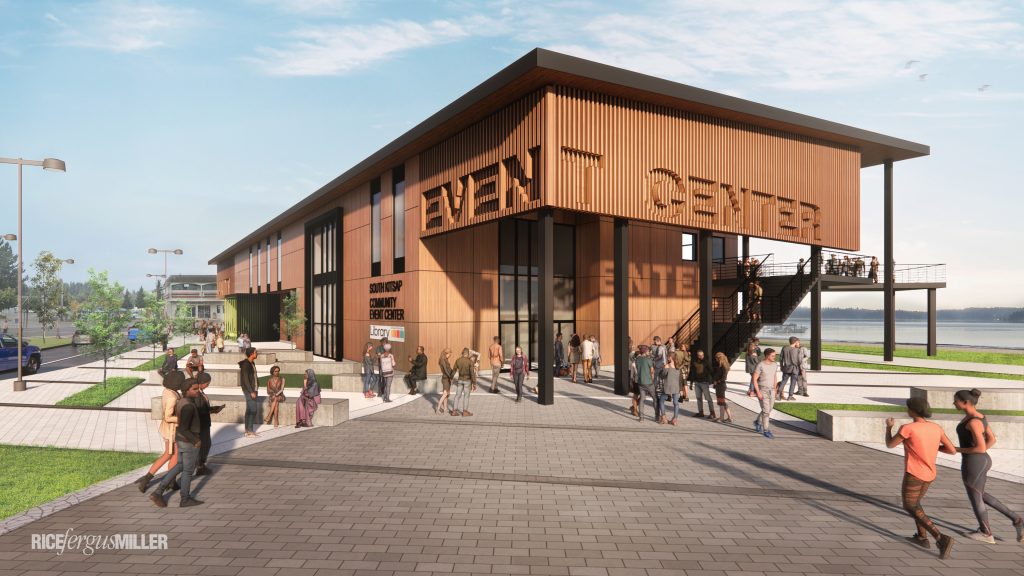 As part of the agreement, Kitsap Bank will lease their current facility back from the city while building a new regional headquarters on the adjacent property – an estimated four-year process.
The South Kitsap Community Events Center when complete will provide a central gathering place and multi-purpose facility in downtown Port Orchard that will support a multitude of functions for local and regional use. The facility will house the City's Regional Library branch and support the community through public use of event and meeting space both large and small.
"Planning for this major project has been in the works for a number of years," said Port Orchard Mayor Rob Putaansuu. "Kitsap Bank has been a fantastic collaborator and their new headquarters will be a perfect complement to the events center. The property acquisition is a meaningful step in the process as we complete the design phase of the new community center."
Currently the city is performing cost estimates on schematic drawings developed by Rice Fergus Miller, the architecture and planning firm on contract to design the facility, in advance of moving into the final design phase of the downtown revitalization project.
For more information, visit the City of Port Orchard Community Development page.
###