Employee of the Quarter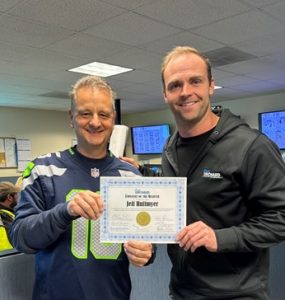 It's a pleasure to announce that Jeff Huffmyer, Project Coordinator/Inspector in Public Works Engineering has been selected as the Employee of the Quarter for 3rd Quarter 2023.
After Jeff's approximately 18 months with the City of Port Orchard, Jeff is recognized for his organizational skills, focus, and attention to detail on a variety of projects including Lippert Road repair and sidewalk improvements, Citywide asphalt preservation including the overlay of Old Clifton, and improvements to the splash pad just to name a few.
Jeff's professionalism and dedication to the City is recognized and appreciated by his co-workers and the management team. Congratulations Jeff. We are glad to have you as part of the team!