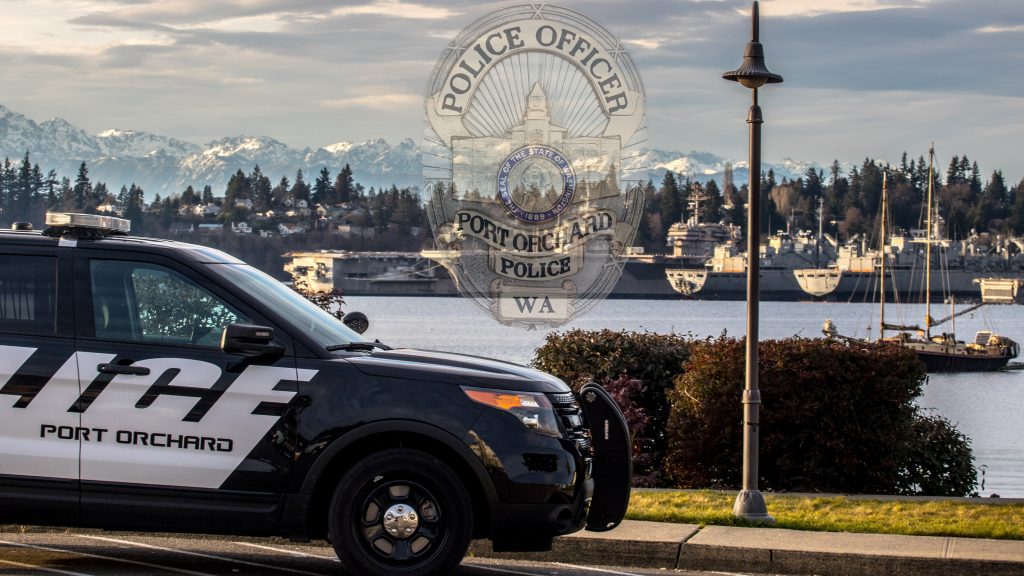 About the Police Department
The police department will be closed for all in-person business beginning Friday, November 3rd. During the remodel of our space, staff will be available during normal business hours by phone and/or email. For emergency assistance, please call 911.
The City of Port Orchard is a waterfront community nestled on Sinclair Inlet, across from Seattle on the western shore of Puget Sound. Port Orchard is close to all services to include professional sports, shopping centers, parks, performing arts, nationally-recognized championship golf courses, snow skiing, and coastal beaches. Port Orchard is the county seat of Kitsap County.
The department is a full service municipal police agency serving the City of Port Orchard. The city is home to nearly 18,000 residents, but with the city as county seat the department further serves an area population of approximately 85,000 in South Kitsap County. The department has an active Marine Patrol Unit, UAS program, and multiple instructors in various disciplines. The agency also supports three detectives and participates with our regional partners for training, special events, and critical incident response.
Our goal is to live our Mission everyday and continue to maintain our community's trust. The officers of the Port Orchard Police Department fulfill the community's needs by actively engaging with the public while on routine patrol, during community events, and in our schools.
In-Person Fingerprinting Appointments
The Port Orchard Police Department offers fingerprinting services by appointment for New/Original Pistol Licenses (city resident only), criminal justice applicants, and for certain licenses issued by the City of Port Orchard. Government issued identification is required (driver's license, passport, etc.)  Fingerprinting fees may apply and we accept cash, checks, credit cards (additional fees may apply) are accepted.  Please call our office at (360) 876-1700 to schedule your appointment.  We do not offer fingerprinting services for outside employment.
New/Original Concealed Pistol Licenses (CPL) or your current CPL is over 91 days expired:
You MUST be a current resident of the City of Port Orchard
Please bring with you the following items:
RENEWAL/LATE RENEWAL Concealed Pistol Licenses (CPL):
EMPLOYMENT/BACKGROUND FINGERPRINTING SERVICES:
At this time, we do not provide this service. The Kitsap County Sheriff's Office does offer these services by appointment only. You may make an appointment via the following website: https://www.kitsapgov.com/sheriff/Pages/onlineforms.aspx
We appreciate you following our guidelines during this time and we look forward to serving you.  To schedule or have any additional questions please call 360-876-1700.