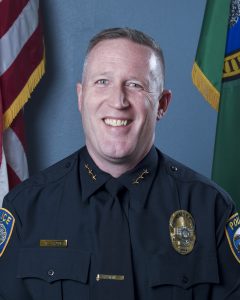 On behalf of the men and women of the Port Orchard Police Department, welcome and thank you for taking the time to learn about your police department. Our website provides the means to stay informed and contains links to valuable resources designed to keep you and your family safe.
We have a strong and dedicated group of men and women in your department; it is a cadre of professionals I am honored to lead. My purpose, as your chief, is to build and maintain trust between the public and your officers, as well as to manage risk in our evolving city. This takes constant communication and transparency; I encourage all of you to be involved and informed.
We stand by our organizational values of Service, Honor, and Integrity. These values are with us in every interaction and every decision. As professionals, we know they guide our path and give us a common purpose. It is important for you to know that your peace officers are committed to doing the right thing, even when difficult, because of our shared values.
Your police department is here to earn your trust every day; we will do that by continuing to provide top tier public service and a dedication to being integral members of our community. We are here to serve, listen, and respond to community concerns. Please feel free to contact me by email or phone with suggestions or comments.
I can be reached at 360.876.1700 or by email at mbrown@portorchardwa.gov.
Thanks,
Matt Brown, Chief of Police
Port Orchard Police Department
546 Bay St.
Port Orchard, WA  98366
(360) 876.1700
Service • Honor • Integrity