About the Public Works Department
The City of Port Orchard Public Works Department strives to operate, preserve and enhance the city's physical infrastructure by providing a diverse range of services that include the following:
Engineering and construction of capital and operational projects
Providing and managing two municipal potable water systems
Operating and maintaining a municipal sewer system
Preserving and enhancing public streets, sidewalks and rights-of-way
Providing and managing a network of parks
Managing and maintaining public facilities, buildings and properties
Rental of the City's Active Club for public use
Operating and maintaining a municipal stormwater management system
Ensuring compliance with state and federal regulatory requirements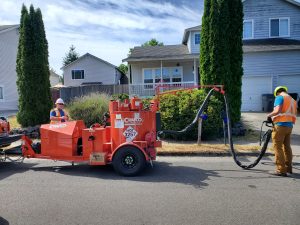 The Public Works Department is managed by the Public Works Director. The Operations Manager and the Utility Manager report to the Public Works Director and are responsible for oversight and implementation of municipal operations and maintenance.
The City provides water and sewer service within the city limits, including the McCormick Woods community. Our city limits overlap with the West Sound Utility District, which also provides services to areas within Port Orchard. Inquiries about water and sewer service should be directed to the City Public Works office at (360) 876-4991.
The City of Port Orchard and the West Sound Utility District (WSUD) jointly own and operate the South Kitsap Water Reclamation Facility which provides treatment to our community's wastewater. The City contracts with WSUD for the day-to-day operation of the facility. Questions regarding wastewater treatment should be directed to WSUD at (360) 876-2545.

The City maintains all publicly owned stormwater appurtenances and stormwater management facilities, ensuring that the City remains in compliance with regulatory requirements.