Bay Street Pedestrian Pathway West
Study Information
The City of Port Orchard is developing a long-term vision to improve accessibility and encourage active transportation within downtown Port Orchard.
"Active transportation" is a means of getting around that is powered by human energy, primarily walking and bicycling.
The study area has bike and pedestrian accessibility challenges. Significant redevelopment work within the study area is planned in the near future, providing an excellent opportunity to improve accessibility for all.
Study Process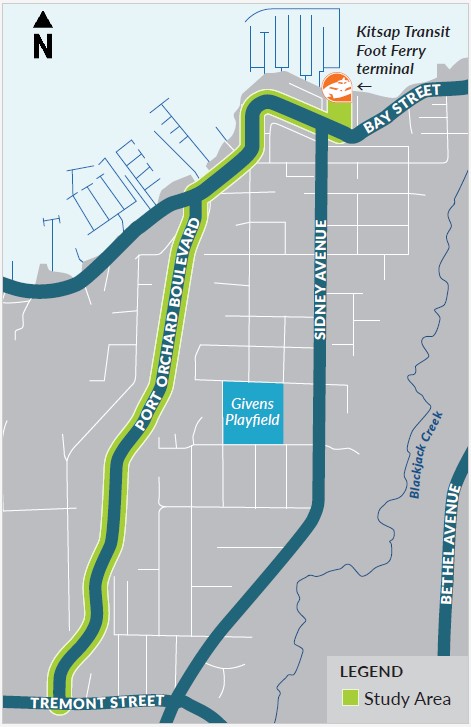 The project team will be studying:
A new active transportation pathway along the Port Orchard Waterfront west of the foot ferry terminal to Port Orchard Blvd
A complete street treatment for Port Orchard Blvd from Bay Street to Tremont Street to encourage active transportation usage
To learn about upcoming opportunities to get involved, sign up for email updates here.
Together, the technical analysis and public input will be used to understand existing conditions, develop alternatives, and identify a preferred alternative that meets the needs of the City of Port Orchard and the community. The goal is to provide preliminary design concepts in December 2023.
Public Participation
We're involving the community in this study to understand your access challenges, what type of facilities would improve your ability to travel through the area and identify opportunities for safety and accessibility improvements. By listening to your input, we'll develop solutions that align with the community's priorities and create options and opportunities for safer and more efficient connections for everyone. Please submit all feedback by Friday, October 6.
Share your input on our interactive map
Learn more about the current suite of design alternatives and share your input about specific locations using our interactive mapping tool.
Take our Survey
We need to hear your needs, experiences, and vision for potential future connections to identify possible connections between the Kitsap Transit Foot Ferry and Tremont Street. Take our survey to share your input!
Have Questions? Contact us!
Ian Smith, Assistant City Engineer
ismith@portorchardwa.gov | 360.876.4991