The City is dedicated to providing information to citizens regarding road closures, flagging, and scheduled contractor work with location/date/times.
Please call Public Works at 360-876-4991 if you have any questions, or email publicworks@portorchardwa.gov.
Bethel Road Traffic Impacts
Traffic impacts to Bethel Road and Blueberry Road.
Approved traffic control plan will be followed with single lane closures at the following dates. Please expect delays and use alternate routes if possible.
9/29/23- Saw cut and pothole Bethel Rd
10/2/23- Alternate lanes on Bethel Rd for trenching and water main tap
10/3/23 to 10/6/23- Trench north side of Blueberry Rd from Bethel Rd to Ramsey Rd for water main installation
The contactor and City of Port Orchard appreciates your patience!
WSDOT Pavement Repair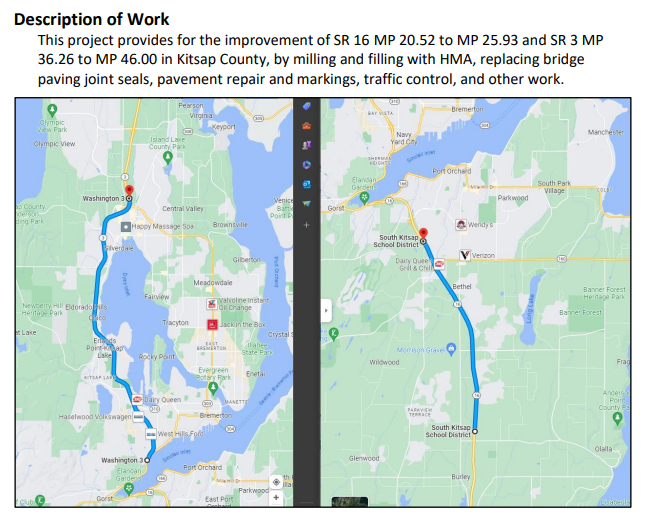 Please refer to the WSDOT Olympic Region for further information.
SW Sedgwick and Lowes
The intersection at SW Sedgwick Rd. and Lowes will be repaired Thursday 9/14/23. The work is scheduled to begin around 6:00pm and will be completed by early morning. Please expect delays during the work and use alternate routes if possible. We appreciate your patience during the road repair.
Improvement Project at SR16 at the Tremont Street Ramp
Beginning Monday, May 1, 2023, improvements are scheduled to begin at the ramp at Tremont Street and SR16. Flagging operations will be provided for traffic control and work is anticipated to last 3 months.
This traffic improvement project will add a right turn lane to the west bound Hwy 16 off ramp at Tremont Street and a center turn lane to enter west bound Hwy 16 from Tremont Street.
Please proceed with caution as traffic delays are expected.