The City is dedicated to providing information to citizens regarding road closures, flagging, and scheduled contractor work with location/date/times.
Please call Public Works at 360-876-4991 if you have any questions, or email publicworks@portorchardwa.gov.
Road Work, Closures and Detours
Bay Street Pedestrian Pathway Repairs
Update (March 2, 2023): Repairs should be completed by the middle to end of next week, weather depending. The pathway WILL be fully open over the weekend. The detour signs will be removed and reinstated Monday morning, 3/6/23.
The City will be starting a repair project on the Bay Street Pedestrian Path where the Kitsap Transit Bus damaged the fence and pathway railing. The contractor is currently scheduled to start repairs 2/27/23 and repairs are estimated to take 5 working days to complete.
This section of the Pedestrian Pathway will be CLOSED day and night during the repairs. We have coordinated a pedestrian detour along Bay St. for the week of 2/27/23 – 3/3/23, attached is the map of the detour route. The route will be clearly marked for the public.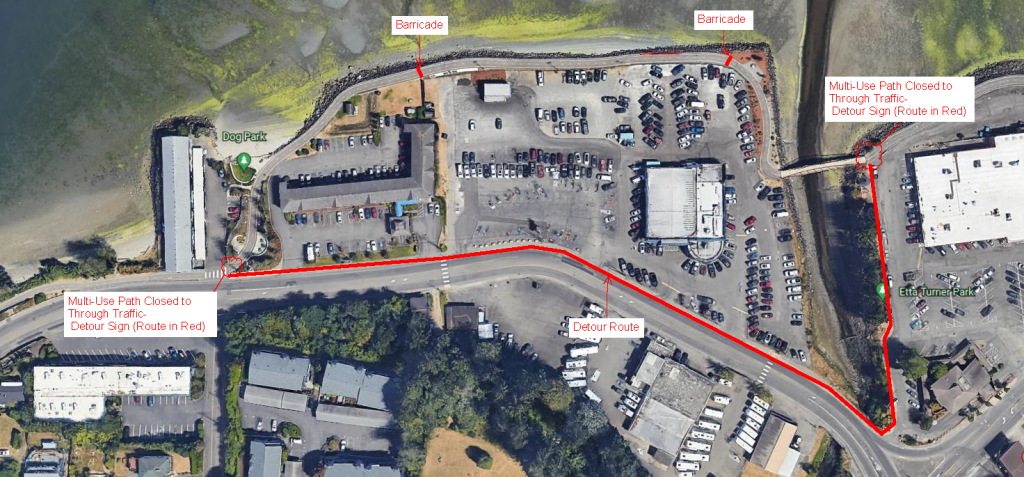 Lippert Drive
Road work will resume on Lippert Dr. to complete the remaining project bid items and punch list items. The residential complexes along Lippert Dr. have been notified of the work, there will be minor delays as single lane sections will be utilized in traffic control. Updates will be provided as the city receives information from the contractor.
---
Snow Routes and Inclement Weather
Snow Route prioritization is based on street classification, traffic volume, and the need for emergency service access to different areas of the city.
Priority 1 routes are the top priority for snow and ice control.  After Priority 1 routes are cleared, work will move to Priority 2 routes.  After Priority 1 and Priority 2 routes are cleared, work will move to local access and residential roads.
Please be mindful that if snow accumulation persists, or becomes worse, plowing crews will have to deviate from the plan and move back to Priority 1 routes.
Public works crews are working around the clock to make the roads safe for travel and they will respond to all roads as the weather permits.
---